The Lord Lieutenant of Hampshire Nigel Atkinson opened Gilbert White's Brewery on the 11th October at Gilbert White's House & Gardens in Selborne.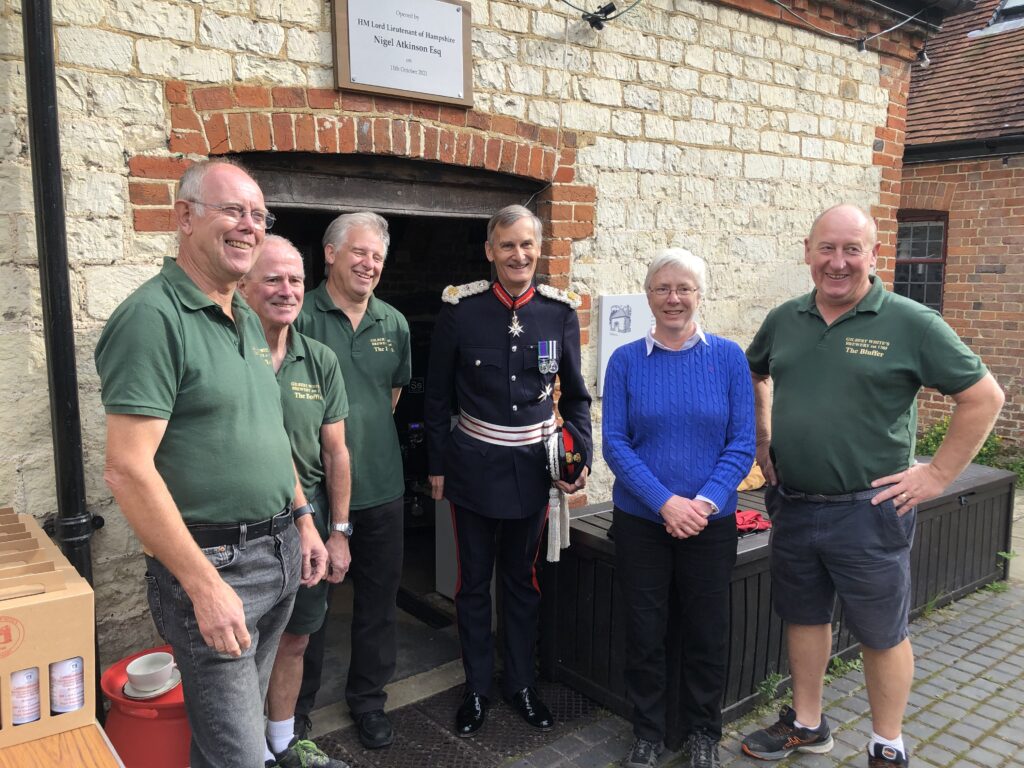 Lord-Lieutenant Nigel Atkinson with Brewers Gren Earney, John Elder, Steve Scott, Margaret Barnfield and Andy Murphy.
Gilbert White's Brewery is based within Gilbert White's original brewhouse built by White in 1765, and re-opened for production in 2019. Re-equipping the brewery was supported by grants from the European Agricultural Fund for Rural Development, South Downs National Park Sustainable Communities Fund, East Hants District Council and 15 Founder Members who each contributed at least £250.  The brewery is run by volunteer brewers headed by Gren Earney, John Elder & Andrew Murphy and the beers they brew are already extremely popular and have featured in the national CAMRA magazine as well as in local TV news programmes. Popular brews include the appropriately named Lawrence Oates IPA, Zigzag and Gilbert's 1765 – a brew based on one of Gilbert White's own recipes.
Apart from being a keen naturalist, Gilbert White was also an avid brewer who kept a regular diary of his brewing exploits over the decades. He was even in his brewhouse bottling up beer 13 days before his death in 1793 – although we are assured this was not resulting from drinking his own beer!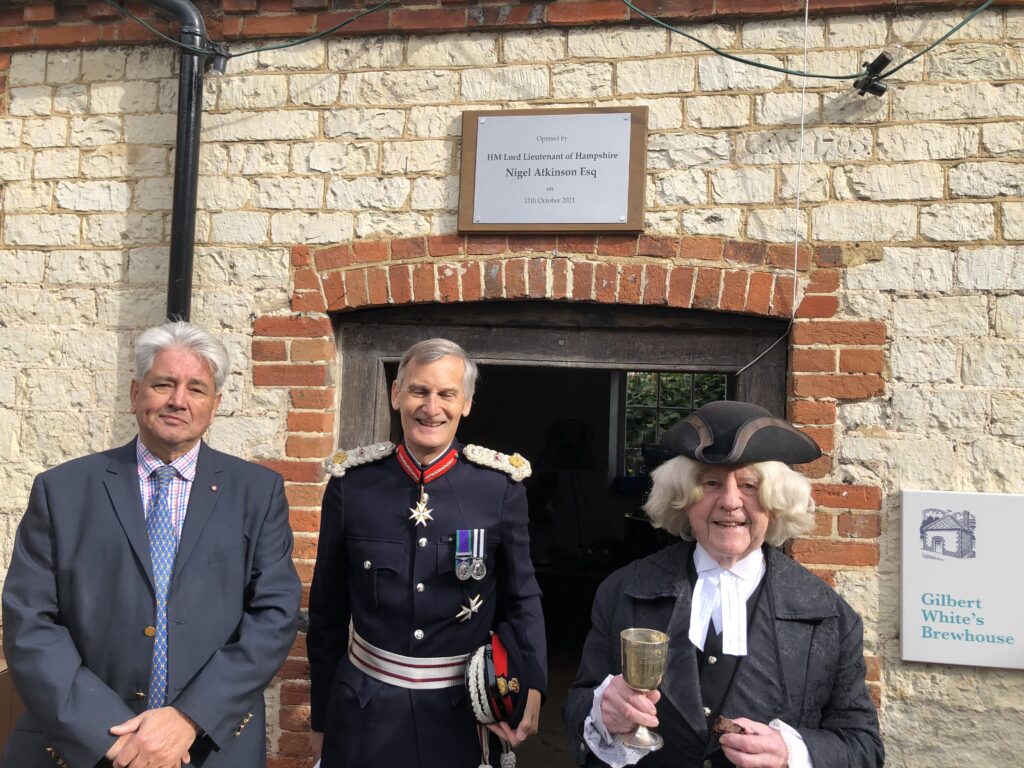 The event began with words from Chair of Trustees Khalid Aziz who introduced the Lord-Lieutenant, Nigel Atkinson. The Lord-Lieutenant was delighted to open the brewery having worked in brewing himself for many years; continuing to hold directorships of major breweries. After unveiling the plaque, he and guests were shown around the small brewery, tasted samples of the beers and were each given a presentation pack of beer specially brewed to mark the occasion.
In his speech, the Lord-Lieutenant looked back on East Hampshire's past history of brewing, and how once this corner of Hampshire was full of breweries. 'You are filling very big shoes' he told the brewing team 'I wish you every success. The four beers I have tried from Gilbert White's Brewery were very good indeed. There was one in particular I was particularly pleased with, and I am sure with the future of bottled beer now you will do exceptionally well.'
The Gilbert White Brewery beers are available from the museum's gift shop and White's café, can also be found on tap at The Selborne Arms and is available via mail order with packs having already been sent to the Isle of Lewis, Cumbria and France. The breweries also make seasonal brews which make wonderful 'one of a kind' presents. These can be tasted at the forthcoming White's Christmas Market on 4th December, or, if the volunteers are in the brewery, when you are visiting Whites , the gardens or the museum.  For further information, or to order beer to be posted out to you, email: brewery@gilbertwhiteshouse.org.uk